Market Performance Overview
Domestic equities were positive in Q4 with large cap stocks finishing +3.63% (-18.11% YTD).
Foreign equities were mixed in Q4 returning +6.28% in developed markets and -1.78% in emerging markets. YTD developed markets are down -14.45% and emerging markets are down -20.09%.
Domestic bonds were negative in Q4 returning -2.09% for the quarter (-13.01% YTD.)
Foreign bonds were negative in Q4 finishing the quarter at -0.26% (-9.76% YTD).
__________________________________________________________________________________________________________________________
Economic Update
Economic and market conditions remained challenging in the fourth quarter of 2022, which wrapped up a year dominated by surging inflation, Russia's brutal invasion of Ukraine and aggressive increases in interest rates. Performance in 2022 was particularly unique because the bear market in stocks was accompanied by a bear market in bonds. A portfolio with 60% invested in the S&P 500 and 40% in the Bloomberg U.S. Aggregate Bond index fell 16% in 2022, marking the second worst year for a 60/40 portfolio since 1974. Fortunately, there are convincing signs that an inflation downtrend is now underway and a lack of overbuilding in the most cyclical sectors of the economy suggests that any recession would likely be mild.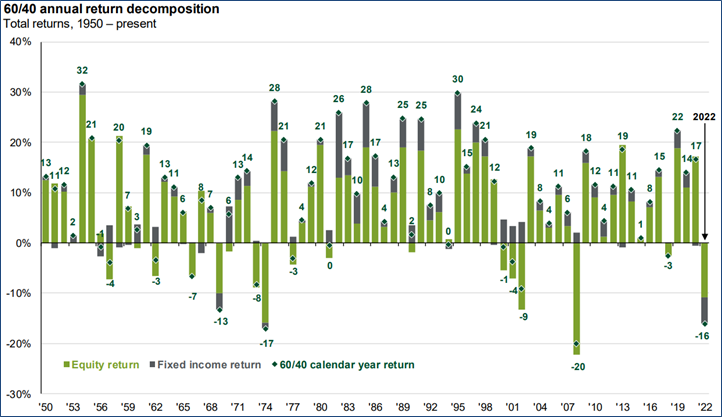 Despite recently cooling inflation, the Federal Reserve has stuck with its hawkish stance by reducing its balance sheet, raising the federal funds rate by 4.25% in 2022, and signaling further rate hikes ahead.  This has narrowed the window for a soft landing, as the economy faces strong headwinds posed by lower household savings, poor sentiment, weakness overseas and sharp increases in both interest rates and the dollar.  Not surprisingly, this has coincided with steep declines in both the stock and bond markets.  It is important to understand that this leaves valuations at much more reasonable levels than at the start of the year, as much of the expected weakness in economic growth is already reflected in current market valuations.  As investors consider these valuations, it is important to take a longer-term view. Two questions for investors to consider are when to take advantage of these better valuations and which areas to overweight or underweight in a very complicated macro environment.
__________________________________________________________________________________________________________________________
Equity Recap
Following a spectacular 2021 in which S&P 500 operating earnings per share (EPS) rose by 70%, profits came under pressure amidst higher costs and receding demand in 2022, leading operating EPS to decline by an estimated 4% over the year. Rising costs, rather than deteriorating sales, have caused weakness in earnings and pricing power should continue to differentiate winners and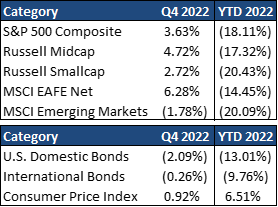 losers in 2023. Energy companies will continue to benefit from high margins, while businesses that provide essential goods and services should be supported. Elsewhere, rising labor costs, higher interest rates and slowing nominal sales growth should bite into profits. In addition, a much higher dollar poses a headwind for companies with overseas sales and recession concerns could cause management teams to further reel in spending and investment. If a recession that eventually leads to less wage pressure and easier monetary policy materializes, it could set up a better long-term environment going forward.
International equities also had a rough 2022 with market declines across developed countries and emerging markets alike. The Eurozone economies and the UK have been hindered by higher energy prices and energy shortages due to the Ukraine war, resulting in slumps in consumer confidence and spending. In addition, inflation has risen sharply across Europe and caused central banks to adopt more hawkish policy positions. Key policy rates of the European Central Bank and the Bank of England began the year at -0.50% and +0.25% respectively. Today, they have risen to 2.00% and 3.50% respectively, and are both set to move higher in the months ahead, even amidst recession risks. While growth was particularly weak in China in 2022, it should improve in the coming years. Actions taken by policymakers such as the easing of zero-Covid policies, liquidity injections for the real estate sector and efforts to ease geopolitical tensions should act as economic tailwinds. Given this, we expect growth in China will accelerate in 2023 and normalize back to trend in 2024.
__________________________________________________________________________________________________________________________
Fixed Income Recap
2022 was a year of aggressive monetary tightening with the Fed hiking rates by a cumulative 4.25% throughout the year. Despite signs that the labor market and inflation are easing, the Fed has maintained its hawkish stance on monetary policy. At its December meeting, the Fed increased the federal funds rate by a reduced pace of 0.50%, following a series of 0.75% hikes, and remained firm on its higher-for-longer messaging. The Summary of Economic Projections signals further rate hikes from the Fed ahead. The median expectation among Federal Open Market Committee members indicates that rates will rise to a range of 5.00% to 5.25% by the end of 2023. Meanwhile, the Fed will continue quantitative tightening, reducing their massive bond holdings at a maximum pace of $95 billion per month.
High inflation and the Fed's much more hawkish stance have led to a sharp increase in bond yields in 2022, resulting in negative returns across fixed-income markets. While the Fed appears likely to continue hiking rates into 2023, increased recession risks should limit further increases in long-term Treasury yields. Importantly, the sell-off in fixed income has also reduced valuations to much more attractive levels. With much higher yields, high-quality fixed income can now provide more of a buffer for portfolios in the case of a market correction or an economic downturn. While the fixed-income market was brutal in 2022, it appears there are brighter days ahead in this asset class looking forward.
__________________________________________________________________________________________________________________________
2023 Outlook & Beyond
For many Americans, 2022 was a very disappointing year with sharply rising inflation and interest rates, falling stock prices and the shock of Russia's invasion of Ukraine. These factors drove consumer sentiment down to its lowest level on record in June and have only staged a modest rebound since then.
When investors feel gloomy and concerned about the outlook, their natural tendency is to sell risk assets. However, history suggests that trying to time markets in this way is a mistake. The chart below shows consumer sentiment over the past 50 years, with 8 distinct peaks and troughs, and how much the S&P 500 gained or lost in the 12 months following. On average, buying at a confidence peak returned 4.1% while buying at a trough returned 24.9%.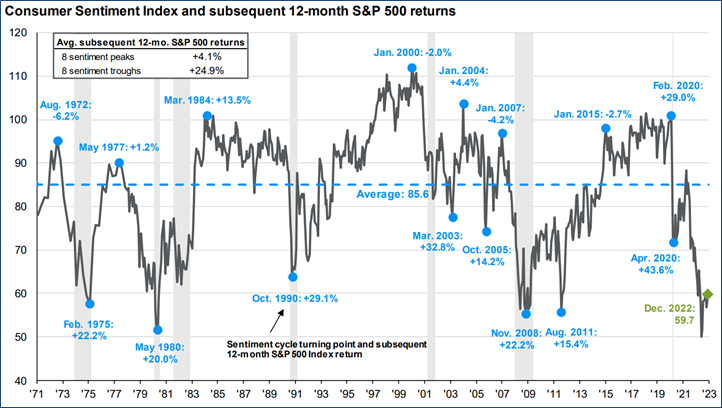 Importantly, this is not to suggest that U.S. stocks will return anything like 24.9% in the year ahead, as many other factors will determine that outcome. However, it does suggest that when planning for 2023 and beyond, investors should focus on fundamentals and valuations rather than how they feel about the world.
If you are a client of our firm, we created your portfolio to withstand times such as these.  If you are not a client and have not stress-tested and designed a plan to navigate through uncertain times, perhaps now is the time to do so.  We stand ready and available to assist you.
Charts, graphs, market performance data, and commentary sourced from J.P. Morgan Asset Management.