The American Rescue Plan, passed in 2021, increased the maximum child tax credit from $2,000 to $3,600 for children under 6 and from $2,000 to $3,000 for children between 6 and 17.  These increased payments will phase out for higher income earners, including parents filing jointly who earn over $150,000.  If you have children, chances are you have received a letter from the IRS in the mail stating you will be receiving this credit in monthly incremental amounts.  These advance payments run from July through December and cover up to 50% of the available credit.  As a result, taxpayers who take the monthly payment will still see half of their benefit when they file their 2021 taxes.  This requires no further action for the recipients.  However, what if you prefer one big payout when you file your annual taxes instead of monthly payments?
If you prefer one big payment annually, you are in luck!  There is an option to opt out of the monthly payments.  To do so, you will need to visit the newly unveiled IRS Child Tax Credit Update Portal.  It is important to note that if you are married, both spouses will have to login and separately choose to suspend the monthly payments.  If only one spouse opts out of the monthly payments while the other does not, you will still receive the monthly payments.  Below is a table that lists the dates of the payments each month, along with the date that you must suspend payment by for each month.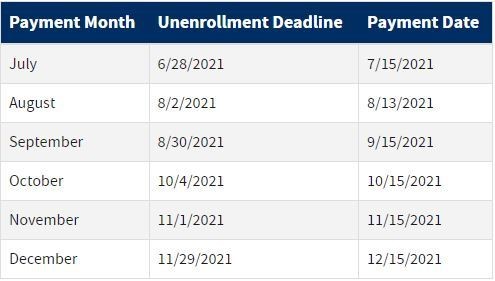 Another reason you may want to opt out of the monthly payments is because the 2021 credit is an estimate based on your 2020 tax return.  If your income has risen substantially in 2021, you may have to repay a portion of the credit that was paid to you via the monthly installment payments.
If you are unsure what amount you should be expecting each month and at the end of the year, check out this calculator. The calculator will show you exactly what you should expect in monthly payments and what your credit will be at the end of the year given your filing status and expected income.